Brighter Every Day


21.06.20

Dear Irving House Email Subscribers
Here we are at the height of summer, the long hot days we sometimes wish would never end. At the end of 2019 I made a wish list of things to accomplish. All were tabled in 2020, but recently, after researching costs and being more confident of our future, I returned to that list and have begun nearly all of the items on it. This makes me so very hopeful~!

Guests are returning or discovering us for the first time, and the house is humming with its old time busy cheer. We have even hired one of the housekeepers from Harding House, a very satisfying step.

Yet we are in some kind of limbo. With the coronavirus and insurrection lingering in the air, my writing of letters and post cards to voters continues. And keeping Irving House going feels like a good mission: maintaining a haven for travelers to Cambridge. It is reassuring that this accommodating guesthouse has been serving visitors for more than 75 years. Each year, each milestone, each disaster survived, all the world and local changes that have changed us, have added more substance to our strength.

Just walking around town now feels more congenial, lively, inviting. Nearly 70% of Massachusetts residents are fully vaccinated; cases and hospitalizations are down to levels not seen since early March 2020. Revels is hosting a Boston Harbor Cruise this evening. Club Passim is opening up again with Ellis Paul tonight! At Henrietta's Table the other day, I enjoyed lunch in the shade of an umbrella while the conversations of many other happy diners burbled around me.

And while last year was to be a fine celebration of the 75th year of 24 Irving Street accommodating travelers, and 30 years of our ownership, I am more pleased that THIS year marks 31 years of our ownership, as 31 is a prime number. While the cycles of 5 and 10 years are nice to note, the prime numbered years grow rarer and therefore more significant as time rolls on. So, I mark this year with special honor: another successful milestone in a difficult stretch of time. We are getting better at this every day...

Here to welcome you whenever your travels bring you to Our Fair City, I am,

Yours sincerely,

Rachael



---
In a follow up to a previous story, we are pleased to add a pic of that baby whose arrival was so anticipated by a guest. Poppa let Veronika hold him..After this little boy's grandparents left Irving House, he and his parents stayed with us as they arranged to move out of their apartment.
And, our ramp has its first banner covering the glaring aluminum...
Now you can see you are getting close to Irving House as you drive down Irving Street!
---
We are repeating our
College Tripping Special
with a new twist:
Once you have booked your room on our site, email or call us to let us know you are
a subscriber to the Irving House Gazette and we will give you a discount on the room as well as
a bag of goodies to help make your college tour more fulfilling!
Copyright © 2021 Irving House at Harvard, All rights reserved.
You are receiving this email because you opted in at our web site, or signed up to receive promotions about us through the Cambridge Office for Tourism site.

Our mailing address is:


Want to change how you receive these emails?
You can update your preferences or unsubscribe from this list.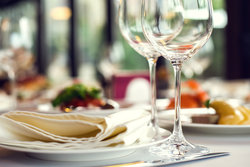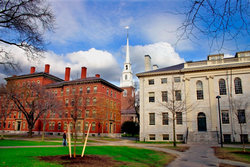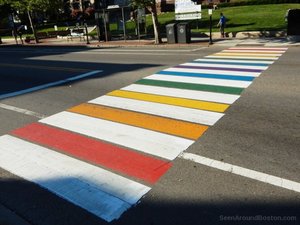 Neighborhood News
There are fabulous businesses all over Our Fair City-owned & operated by people of color. You can choose to support them here.
The wonderful collection of restaurants in Harvard Square are open for business with outdoor dining, or pick up.
Cambridge Local First is a fine organization of which I am proud to be a part. Here is their Social Wall so you can see some of the many cheerful colors of Our Fair City.
Light in the Darkness
"One discovers light in the darkness. That is what darkness is for."
~James Baldwin
On this particular summer solstice, we are in a grave darkness. Time stretches as every moment seems more full of fear, speculation, and appreciation of the details of daily life. While I grieve for all of us, black and white and every color of skin in between, I know the grief and rage and fatigue of our black neighbors and friends and loved ones, our colleagues, our employees, our family, surpasses whatever any of us with white skin can ever truly know. And in this darkness those of us who have been born to and live with the privilege of having white skin, must know it is the same white skin of those who have conjured this theory of Race to justify centuries of oppression. The systems in place to ensure racism's perpetuation are so entrenched we whities do not even see them as racist.

It does not matter at all that we have not actively participated in this oppression. We have benefitted by it, and are part of the system that sustains it. In reading James Baldwin, as I have been doing lately, I ache in acknowledgment of how long, how very, very long we have participated in this system, how very bad it is for people of color.

"Whatever while people do not know about Negroes reveals,
precisely and inexorably,
what they do not know about themselves."
~James Baldwin, November 10 1962

We whites have work to do. Every one of us must stand up for what is right for every one of the human race, and for every living thing on the planet. This very much includes atoning for the awful injustices perpetrated for centuries on Africans, wherever they are, and the first peoples of North America. In addressing the enormous, incalculable damage done to individuals and whole communities, to whole societies, we will also begin to address the ills we have perpetrated on so many others in our greed, in our sense of entitlement and supremacy. None of us is free when any of us is oppressed. That means every human being. Even, I have to admit, the sociopaths and the psychopaths, even the white supremacists who would live in fear and loathing instead of facing their own frailties, and growing, we hope, in love and tolerance. Hard work, but always, always worth it.

In my (white) experience, the Cambridge Police seem to be well trained in dealing with the problems of many Cambridge residents as true officers of peace whose mission is to protect and to serve. They are often acting more as social workers on the front line between order and chaos at every level. I am following the conversation underway in Cambridge to better understand how our own police force behaves and whether it needs defunding or reorganizing, or is something close to a model of what can happen.

Do you know how your police force is behaving toward its residents? We all should know and monitor this. Watchful eyes on law enforcement and the justice system are all needed from every angle now. This is our power. This is one thing demanded of us now.

Many of us have lived long enough to have heard Martin Luther King speak on the on the Washington Mall, on the 6 o'clock news, and to know he was monitored and harassed by the FBI. We are old enough to remember the awful rage and grief we felt when he was assassinated in Memphis. It seemed like a second fierce blow to righteousness, only five years after JFK was shot.

This current, these days and weeks of rage and sorrow seem fuller, more inclusive, more widespread and, without a single leader, stronger.
Knowing that our founding fathers could not imagine including anyone but landowning white men in their democracy, and yet stated ideals of a true democracy for everyone, and knowing that the teachings of the Judeo-Christian traditions are of love and mercy, and remembering the Golden Rule, I am allowing myself to be hopeful, and seeking more ways to ensure the success of this tide of righteousness.
~Rachael Solem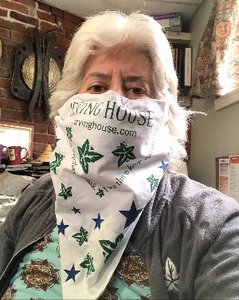 Complimentary Bandana!
Send us an email at [email protected] so we can send you a bandana! Or just book directly with us and ask for one when you arrive--

We look forward to seeing your masked selves whenever you are in the neighborhood!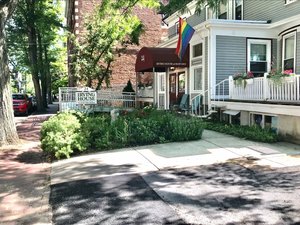 CORONA CASH CRUNCH


GIFT CERTIFICATES ARE STILL AVAILABLE!
As long as we are still refunding deposits, we are still happy to get the purchase of these gift certificates in $100 units. Each one will buy a night's stay at Irving House in time to come, any time! You can order yours by calling us, 617-547-4600 to give us your credit card info, or sending us a check by post (Yay! US Postal Service!) and we will mail you back a gift certificate... and look forward to seeing you soon!