Irving House at Harvard has been accommodating visitors to Cambridge since 1945. Before that this inn provided dormitory space for students Harvard University and Radcliffe College. Our location on a quiet residential street near Harvard Yard has allowed us to offer the best value for accommodations in the Harvard Square area for all kinds of travelers.
On-site Amenities
At Irving House, we always try to ensure that our guests are as comfortable and satisfied as possible during the entirety of their stay. Keeping our green practices in mind, we have numerous offerings throughout our property that are included in your rate:
Complimentary breakfast
Free Wi-Fi
Off-street parking
All day coffee, tea, and snacks
Send postcards globally (postage is on us!)
In-room television
Books (read, trade, keep!)
Daily newspapers
Guest fridge, ice machine, & water fountain
Local calling
Computer and printer access
24-hour front desk services
Green housekeeping
Reusable water bottles
Accessibility
Irving House is a wood-framed house with guest rooms on four floors. Our dining and laundry areas are in the basement. There is no elevator, alas. We do accommodate guests who cannot maneuver stairs, in a room on the first floor. We also have other ADA compliant features for safety and security.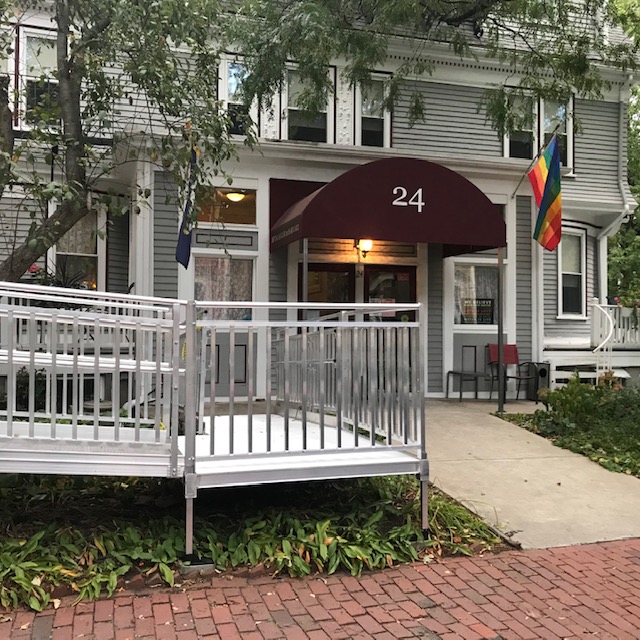 Green Operations
Irving House is the proud winner of several awards for our environmental efforts. A stay with us means sleeping soundly with the knowledge that your visit has a minimized carbon footprint. Our environmentally-conscious amenities include:
Recycling & composting (We helped organize the first composting route in Cambridge!)
LED lighting
Energy efficient appliances
Reusable supplies (water bottles, straws, travel mugs, beanies and headbands, etc.)
Solar thermal panels to heat guests' hot water
A partnership with Best Bees that supports their research on colony collapse disorder
Level 2 EV charger in our nearby parking lot (up the street from 24 Irving)
Guest Comments
"What a gem!  So glad we found this B&B—will let others know of it. Thanks for your green and local commitment.  Most of all, the friendly & cordial atmosphere. . ." AZ & PT, Albany, NY

"Thank you for such a warm and comfortable stay.  Welcome begins at front door but extends in everything presented here.  A real gem and certainly worth returning to again and again.  What a terrific discovery and great way to start the year." Paula, Long Beach, NY

"We were so lucky and happy that Irving House is near where our daughter lives.  This was the best accommodation we visited during our three trips to America.  The staff was very very friendly, the room service was very good, so we enjoyed our stay very much.  Danke!" Ulrike, Hamburg, Germany

" I came to Boston after years away because I studied here.  This is my first time feeling at home. For me, it is the best hotel in town.  I am a corporate guy and I have a restaurant in Peru.  I love this small hotel in the middle of Cambridge."  Marco, Lima Peru

"I had a marvellous time in this friendly place.  Spent a day after my programme at Harvard ended and wish to stay more days in Boston.  Irving House is the place to be.  Hope to visit again soon."  Thomas B, Nigeria

"We had a wonderful stay in your B&B.  Irving House is special thanks to the wonderful staffa, kitchen, cleaning and the front desk.  They are very friendly."  Bentje & Laura, Belgium

"Went to a concert at Sanders Theatre.  Couldn't have been more convenient and comfortable.  Wonderful breakfast!"  Marcia, West Orange, NJ

"A nice place to stay.  Comfortable rooms, friendly staff, above all whenever I feel like having a cup of coffee, it is always there.  Hope to come back in future."  Dr. T. V. Sekher, India

"This was a perfect place for wedding party guests to stay.  We not only enjoyed the wedding and visiting family but also seeing the sites. It was very memorable.  Thank you." Marty, Weidman, OH

"Back to Boston after 49 years, but the last time was only a few hours between busses from New York to Skowhegan, Maine. Such a pleasure now to have two nights in Cambridge at Irving House, where a warm welcome greets the pilgrims arriving at the green pastures of Harvard University.  Hoping to be back—"  Charles, Webster Groves, MO

"Thank you Irving House for being a 'home from home' during these four years as a Harvard parent.  I have just loved every minute of my stays here.  You have thought of EVERYTHING to ease the burdens of a weary traveler and make his/her stay delightful and comfortable in every way! I really hope to be back and see you again."  Heather, Johannesburg, South Africa
A history of the house at 24 Irving Street
The house at 24 Irving Street was originally built in 1893 as a two-family house by a grocer, Enoch Beane.
In 1927 the house met the need of an expanding Harvard University by converting to housing for students.  Its twenty-four rooms (twelve in each dwelling unit) were divided up into forty-four lodging rooms.  Most were designed for single occupancy, about seventy-five square feet in area, with baths across the hall.
In 1943 the house was sold to Frances and Vangel Misho who owned and occupied a large house on Kirkland Street where they rented a few rooms to travelers.  They purchased the house at 24 Irving Street to expand their successful hotel business, The Kirkland Inn.
For the first year, they continued to rent to Harvard students, but found them to be too rowdy and chose to accommodate Radcliffe students the following year.  After one academic year with Cliffies, Frances Misho thought them even rowdier and converted 24 Irving Street to hotel use. So, since 1945 it has been accommodating the traveling public.
In the autumn of 1989, the current owners found the house still operating with faithful staff, but in need of a great deal of attention.  The purchase was completed in July of 1990.
Since then, in several phases of renovation, we have made significant improvements to the house including systems for fire suppression and air conditioning, double-glazed windows, a ramp for wheel access and creating more rooms with private baths.
There is now another thirty years of history of the current ownership, but that is another chapter…
Reservation and Cancellation Policies
Deposit & Cancellation Policy
When you book directly, we charge your credit card at time of booking for the first night including tax.
You may cancel your reservation until 24 hours prior to arrival with no penalty.
If you cancel closer to your arrival date, we reserve the right to keep your deposit.  If you must cancel closer to arrival, and we can rebook the room, we will refund your deposit.
When you are reserving four or more rooms, a deposit of 50% of your whole stay will be taken at the time of booking. This is considered a group reservation. In this case, refunds will only be given for cancellations made at least one week prior to arrival. If you cancel closer to arrival, we may refund some of the deposit depending on our ability to resell the rooms.
Terms & Conditions
Please note: For stays between May 23-28/2024, there are different cancellation policies and restrictions.  Parking is NOT included and will be restricted to those who have reserved and paid for it.  There is a three-night minimum stay required.  Payment for those three nights is required to confirm any reservations during these days of Harvard and MIT commencement ceremonies.
Rates are subject to change unless secured by a valid credit card. Early check-in is possible (Based on availability). Late check-out is possible (Based on availability).
Extra adult 18+  $20/day
Children 12-17 years old $10/day
Children under 12 stay free (please let us know to update occupancy)
Cot (roll-away bed) $10/per day
Self parking-Free (based on availability).
Pet Policy-Assist animals only.
Size and Layout
44 rooms
Arranged over 4 floors
We have no elevator
Arriving/leaving
Check-in time starts at 3 PM
Check-out time is 11 AM
Required at check-in
Credit card or cash deposit required
Government-issued photo ID required
Minimum check-in age is 18
Internet
Free Wi-Fi in public areas
Free Wi-Fi in rooms
Parking
Free off-street self-parking (first come, first served)
Other information
Smoke-free property
Smoking is allowed on one designated area of our patio. This area is further from our guest rooms to avoid any disturbance for our non-smoking guests.